that seems too simple - to the point that many people would not even want to try preparing it.
Well, I certainly won't order this dish at a restaurant and pay good money for a pasta that is prepared with essentially just garlic and oil. Many restaurants know this, so they often jazz up the dish with additional ingredients like shrimps.
Nor would some people, especially Italians, serve this dish to dinner party guests.
Not only is spaghetti aglio olio very plain, it is also associated with poverty. It is what poor, rural Italians might eat on a regular basis. In fact, they would prepare it with home-made spaghetti or fettucine.
Do not look down on this humble dish, however. It can be very delicious.
The secret to making a good spaghetti aglio olio is to use good quality pasta and olive oil - which is what poor rural folks (at least in the past) would enjoy if they made the pasta themselves and buy olive oil from small local producers rather than the big companies.
And, of course, cook your spaghetti truly al dente.
So do try this very easy pasta recipe. It is inexpensive, can be whipped up in minutes, and delicious.
Spaghetti aglio e olio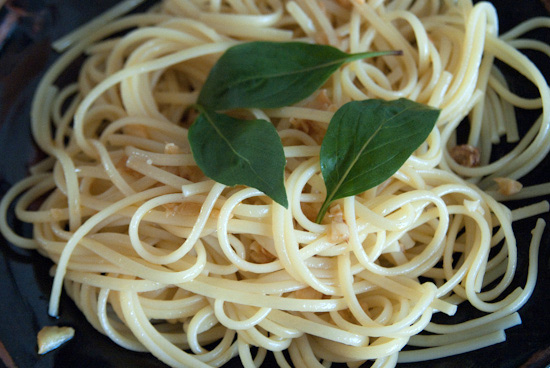 Ingredients
(serves 4 to 6):
1/2 cup extra virgin olive oil
6 to 8 cloves garlic, chopped or finely sliced
a dash of chilli or paprika powder
1/2 tsp sea salt
liquid from cooking pasta
Optional garnish:
dried chilli flakes
ground black pepper
fresh herbs - basil, Italian parsley, cilantro, coriander, etc
grated parmesan cheese


500 grams pasta, cooked according to instructions.
Method:
Heat oil gently. Add garlic, salt and chilli / paprika and fry until garlic just begin to turn golden. Remove from heat.
Add cooked pasta into the garlic and oil (aglio olio) mixture and toss over medium heat. If the pasta seems dry, add a bit of the pasta cooking liquid.
Serve topped with finely chopped fresh herbs and / or dried chilli flakes and / or grated parmesan.
Notes and variations:
Besides using good quality ingredients, another secret is to cook the garlic just right. It is important to remove from heat just as the garlic starts to turn golden, because it will continue to cook on its own. Take care to avoid the garlic turning dark brown, or it will taste bitter.


Some people prefer to remove the garlic from the oil and so their dish contains no garlic, just garlic-scented olive oil.


For a party dish, cook the garlic with large shrimps to create a shrimp spaghetti aglio olio. Fresh scallops work well with this dish too.