only when I started doing "cooking research" for this pasta recipes website. I love them.
I found ricotta recipes not just for pasta but also for ricotta cheesecake, riccota pie and salads. I've yet to try some of the more complicated ricotta cheese recipes, such as the classic pasta dish, spinach ricotta gnocchi - which was my main reason for checking out ricotta cheese in the first place.
But many of the recipes with ricotta are very easy to do - just fry some garlic / onions, throw in additional ingredients like bacon if you wish, then toss with fresh herbs and ricotta cheese. It's that simple! Some of the ricotta cheese recipes for pasta can be whipped up in about 10 minutes!
For me, the difficult part was finding the riccota cheese! I knew I would not get it as my neighbourhood supermarket. Still, I was surprised that I could not buy it as a specialist Italian deli - Quattro Stagioni Deli (previously at Liang Court, now at Orchard Central basement).
In the end, I found it at The MarketPlace, at Tanglin Mall. Then I found it at several other places too, at quite different prices. The Marketpace, Meidi-ya, Isetan at Scotts and Huber Butchery all sell the same Galbani brand, but Huber's sells it for only $8 whereas Isetan sells it for $9.55 and the other two supermarkets sell it for over $10!
I also found ricotta cheese at some branches of Cold Storage Supermarket, eg the one at Fifth Avenue has four varieties, ranging from $7.70 for the Italian-made La Ricotta, to another that costs $14+. That's when I also found out that there is low-fat as well as full-fat ricotta. Get the full-fat version. It tastes better and is, in fact, heathier. Click here to learn more about
why saturated fats are healthy.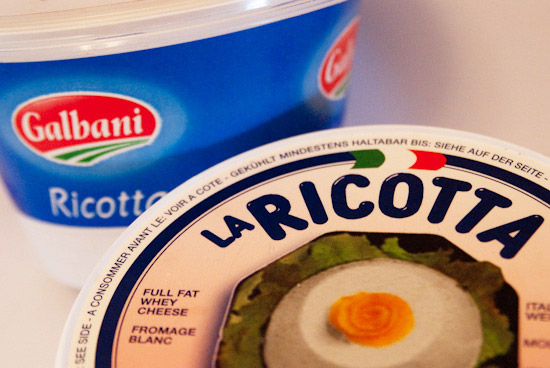 What is riccota?
Most cheese are made from curd, which is the part of the milk that settles at the bottom when natural, non-homogenised milk is left to stand for some time. Riccota is an unusual cheese made from whey - the middle section of milk between the curd at the bottom and the cream on top. Whey is rich in nutrients and its proteins are easily digested, but for some people, whey can trigger migraine.
Ricotta cheese is soft, with a mild flavour but a rich feel. It smashes up easily and evenly to form a creamy texture, which makes it ideal for cheesecake as well as for a creamy pasta sauce. If you find your ricotta cheese sauce too thick, just dilute it with some of the pasta cooking liquid.
Because of my initial difficulty in finding ricotta, I naturally thought about substitutes for ricotta cheese recipes. The answer I usually found was cottage cheese. Having tried ricotta, I think cottage cheese is a poor substitute. The texture of cottage cheese (at least the few that I tried) is more crumbly than creamy and the flavour is more flat. I always thought of cottage cheese as a "pseudo health food" for people misguided into thinking that full-fat dairy products are "bad".
Having tried ricotta cheese, I feel it makes a great substitute for recipes that call for mayonaise. This is not a substitute in the sense that it's flavour comes close. But it can be used in a similar way. I personally prefer ricotta cheese over mayonaise. I find the flavour more natural and it's healthier too.
I will certainly be experimenting with more ricotta cheese recipes, including some of the filled ricotta recipes using large pasta shells or tubes . Meanwhile, you might like to try the following: