Among anchovy recipes for pasta, I find this to be the most interesting - and rather enjoyable too, with its strong, robust, salty flavours.
I call this the "passionate way" to enjoy pasta with anchovies, for it marries anchovies with other intensely-flavoured ingredients such as capers, olives (preferably black olives) and dried hot chilli peppers.
Each of these ingredients has a strong character of its own. Yet they combine remarkably well here, in a tomato-based sauce. To further intensify the flavours, the sauce is slowly simmered for 30 minutes or longer, until it thickens and the different strong flavours meld.
The more usual way to prepare pasta with anchovies is the subtle way, where just a small amount of anchovy plays a background role in enhancing the flavour of a dish, rather than in flavouring the dish directly. One example of such anchovy recipes is a pasta with anchovies and tomato sauce. This is a simple sauce, made subtly complex by the addition of anchovies.
If you are in the mood for something more robust, try this "passionate way".
According to one Italian pasta cookbook author, anchovy recipes that combine such strong flavours are a specialty of Sicily.
Yet this Pasta with anchovies, capers, olies and chilli bears strong resemblance to that infamous dish, Pasta Puttanesca or "Prostitute's pasta", which is said to have originated in Ischia, an island in the northern Gulf of Naples, quite removed from Sicily in the South.
Who is right? Er...... I don't know. Just enjoy this and other pasta anchovy recipes!
Pasta with anchovies, capers, olives and chilli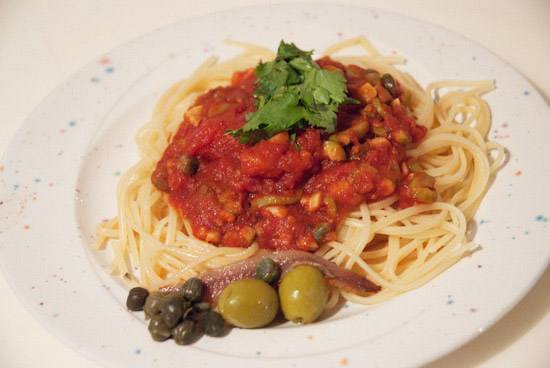 Ingredients (serves 4 to 6):
1/2 cup extra virgin olive oil
4 cloves garlic, chopped
1 oz / 30 grams anchovy fillets
2 tbsp salted capers, rinsed and dried
1/2 cup stoned black olives
1 tbsp dried red chilli peppers
1 can (approx 240 grams) tomatoes
small bunch (about 10) fresh basil leaves
small pinch of sea salt
ground black pepper, generous amounts


Coriander / flat leaf parsley for garnish


300 grams spaghetti or other pasta, cooked according to instructions. Save some pasta cooking liquid.
Method:
In a heavy pan, heat half the olive oil.
Add garlic and anchovy and cook over medium heat for about 3 minutes.
Add tomatoes, olives, capers, basil, chilli, salt and pepper. Stir well and simmer for 30 minutes or longer, until the sauce thickens.
Toss with, or serve over, cooked pasta. If the sauce is too thick, add a bit of the pasta cooking liquid.
Serve drizzled with additional olive oil and garnished with coriander / Italian flat leaf parsley.
Notes:
Feel free to vary the amounts of the various ingredients, depending on whether you prefer a stronger or lighter tasting dish. Just don't go overboard. I've seen, for example, anchovy recipes that call for an entire 3oz jar of anchovies, plus an entire jar of capers... Even though this is supposed to be a strong tasting dish, I recommend you learn to appreciate subtleties.
Salt may not be needed in anchovy recipes such as this, as the anchovies are salty and so are the capers and olives.
Make sure that the capers are well-rinsed, as they are heavily packed in salt. Capers are also available pickled in vinegar, but the sour taste of the vinegar, unlike salt, cannot be rinsed off.