in Chinese, is a popular daily food.
The Koreans have a similar version as well.
There is speculation that this is the original spaghetti bolognese. Whether or not this is true, the two dishes certainly are similar. And this meat sauce recipe works as well as with spaghetti as it does with Chinese noodles.
Many Western versions of this recipe use
Hoisin sauce,
a ready-made sauce whose ingredients include sugar, fermented soybeans, vinegar, garlic, chili and salt - plus varius chemical preservatives and artificial coloring.
I prefer to make this with preserved black beans, which is sold in small glass bottles in Chinese stores.
Alternatively, miso can be used as well. In this case, use brown or medium miso (as opposed to white / light miso or black / dark miso), such as barley miso or brown rice miso.
Otherwise, Hoisin sauce will do. It's not as healthy as miso or fermented black beans, but taste wise is okay.
Beijing meat sauce noodles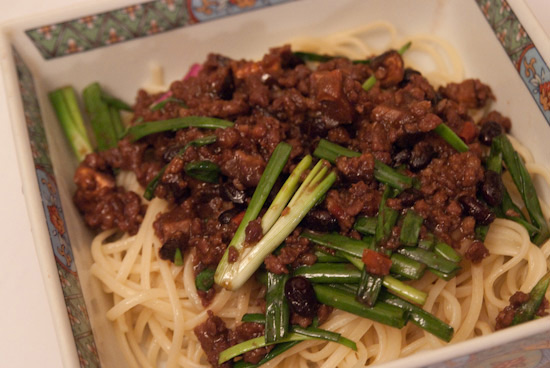 Ingredients (serves 4 to 6):
2 tbsp peanut oil (or other oil used in Chinese cooking, such as corn oil, or palm oil)


2 large onion, finely cut
4 cloves garlic, chopped
small pinch of salt


500g minced pork


1/4 cup fermented black beans
1/4 cup Chinese rice wine or sherry
2 tbsp dark soy sauce


I bunch of scallions (spring onion) cut into 2-inch lengths
1 tbsp toasted sesame oil


500g dried spaghetti or other pasta, cooked according to instructions.


Method:
Heat the oil in a heavy pan until hot, but not smoking
Reduce heat to medium. Fry garlic until fragrant, about 2 minutes.
Add onions, plus a small pinch of salt (to draw out its sweetness) and fry until soft and translucent, about 3 or 4 minutes.
Add minced pork and fry until it no longer clumps together.
Add black beans, wine and dark soy sauce. Reduce heat to low and cook for half hour or longer.
When cooked, add the toasted sesame oil and spring onions into the meat sauce. Serve over pasta.


Variations and optional ingredients:
The above is the basic version of this Chinese meat sauce recipe. Possible variations include:
BEEF: Use minced beef or a mixture or pork and beef. Personally, I like the beef / pork combination best and I used this also for the Italian bolognese meat sauce recipe.


CHILLI: For a bit of spicines, add some cut red chilli and cook together with the onion.


MUSHROOM: For added flavour - and health - add some dried shiitake or Chinese black mushrooms. Soak the mushrooms in water for about 15 minutes, until soft, dice and add together with the meat. Alternatively, use other fresh mushroom such as button or brown mushroom.


CHIVES: Use chives instead of scallions.


CARROT / CUCUMBER: Serve with raw cucumber and/or carrot, diced or cut into fine strips (julienne).


NOODLES: The original Chinese meat sauce recipe is, of course, using noodles. For this dish, the Chinese normally use thick wheat noodle, similar to Japanese udon.


MISO / HOISIN SAUCE: If you cannot get fermented black beans, or black bean sauce, for this Chinese meat sauce recipe, the best substitute would be brown miso. Otherwise, hoisin sauce will do as well. Use about the same amount, roughly 1/4 cup.