I had originally wanted to try the classic pasta dish, spinach ricotta gnocchi.
But after having bought my ricotta cheese - which required me hunting around several gourmet supermarkets before I finally found it - I realised that the recipe was a bit more complex than I thought.
I did not have some of the other ingredients, so I looked through my pasta cookbook for other, simpler recipes with ricotta cheese, and I found this.
In fact, I discovered that pasta recipes with ricotta are generally very easy to prepare. Basically, all you do is cook pasta, add to ricotta cheese and mix well. That's the basic recipe, other ingredients may be added for variation and variety.
Pasta with ricotta and herbs
4 tbsp olive oil


4 cloves garlic
2 (or more) red chilli or 1 red bell pepper
1/2 tsp sea salt
3 cups chopped fresh herbs - use two or three types of herbs, choosing from basil, oregano, flat leaf parsley, coriander, spring onions, mint, etc.
1 tub (250 grams) ricotta cheese


300g dried penne, fusili or other pasta, cooked according to instructions.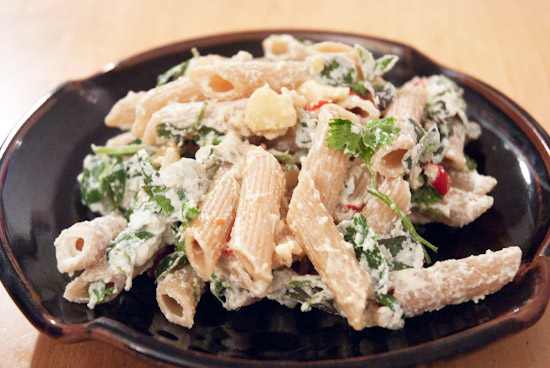 Method:
Finely cut the garlic and red chilli or, for a milder flavour, red bell pepper
Heat the olive oil in a heavy pan, add salt and fry the garlic and chilli for 2 to 3 minutes.
Remove from heat and toss in the cooked pasta.
Cut ricotta cheese into small cubes and add to the dish.

Variations:
Using the above recipe as a guide, you can make many different versions of pasta recipes with ricotta:
The main variation would be in the types of herbs used, as this will have the strongest impact on the flavour of the dish. The original recipe in my pasta cookbook used basil, Italian flat leaf parsley and oregano. However, I did not specify the type of herb because I know it can be difficult to get the exact varieties. For example I used to be able to get very good quality organic basil cheaply at Jusco supermarket in Johor, Malaysia. But I have not seen it for more than a year already.

Also, I find the choice of herbs quite personal and may not necessarily have anything to do with authenticity. I noticed, for example, that some cookbook writers use mostly basil, some rosemary, some tarragon, etc.


Instead of (or in addition to) fresh herbs, you may want to add some salad-type vegetables, such as cherry tomato, cucumber, carrot, celery, etc... all cut into small pieces.


For a more complete and satisfying meal, serve with some cooked meat. What I did when I first prepared this recipe with ricotta was simply to coat a strip of lean pork with coarsely ground black pepper, and pan fry with a bit of butter until cooked and golden brown. Then slice and serve. More about this later.
This, along with another ricotta cheese recipe, is really a "free-and-easy" recipe. It is is a no-brainer recipe to prepare, and one that lends itself to endless variations.
Enjoy.