I've come across many versions of garlic chicken, whether with pasta or just the chicken on its own. Yet the majority do not feature garlic strongly.
Just because a certain chicken recipe contains one or two cloves of garlic - as a minor ingredient - they call it a garlic chicken recipe?
No. No. No!
If this is the case, then maybe 90 percent or more of Chinese recipes might be called "garlic recipes" - just because they happen to use a bit of garlic?
To me, in order for a dish to be called garlic chicken, garlic shrimp or garlic anything else, the main flavouring has to come from garlic. Other ingredients should play minor roles.
If you create a pasta recipe using chicken, tomato, broccoli, mushrooms, and lots of other ingredients, with garlic as just one of those many other ingredients, how can you call it a garlic chicken recipe?
Here, then, is a plain, simple, genuine recipe for garlic chicken pasta - one that would satisfy garlic lovers!


Garlic chicken pasta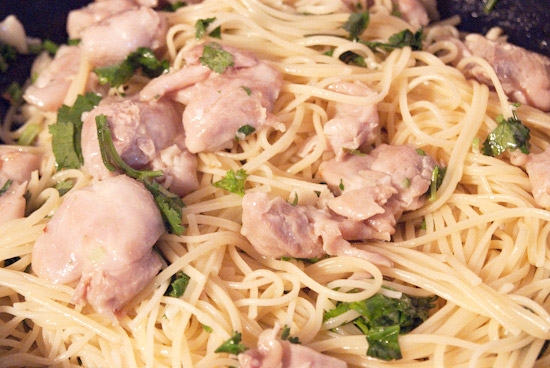 Ingredients (serves 4 to 6):
4 to 6 pieces chicken thigh meat
1/4 cup extra virgin olive oil
6 to 8 cloves garlic, chopped
1/2 tsp sea salt
1/4 cup chopped parsley or other herbs
1/2 cup pasta cooking liquid


Romaine or other fresh lettuce, for serving
ground black pepper
grated parmesan cheese


500 grams dried pasta, cooked according to instructions.


Method:
Cut the chicken into bite size pieces, season with salt and garlic and set aside.
Heat oil in a heavy pan. Fry the chicken pieces until they are golden brown and cooked through, about 6 to 8 minutes.
Add chopped parsley and cooked pasta, and mix well.
If the pasta is too dry, mix in a bit of the pasta cooking liquid.
Serve with fresh romaine lettuce.
If you wish, top with ground black pepper and grated parmigiano reggiano.
Notes and suggestions:
Almost every chicken recipe that I've come across uses chicken breast meat. Unless you particularly like chicken breast, I recommend the thigh meat (above the drumstick) instead. Personally I find chicken breast to be flat and bland. Don't worry about health. Click here to read about why chicken, duck and goose fats are healthy.


Besides chicken, this recipe also works well with pork (or turkey, but again I prefer not to use breast meat) but not with red meats like beef or mutton.
Click here for a Chinese noodle / pasta garlic chicken recipe.