The first time I prepared this pasta Carbonara recipe, I ate two servings! Well, partly I was hungry as I did not have a proper lunch.
But I must say I rather enjoyed the meal. It was rich and satsfying, but not in a way that made me feel uncomfortable and sick afterwards. I was reminded of the time, more than 15 years ago, when I ate at Italian restaurants quite often.
This is not to boast about how good my pasta carbonara recipe is. A truly fine Italian restaurant can certainly prepare it better, except that those would be costly. My version here is inexpensive, very easy to prepare and would probably beat many in average Italian restaurants - at least those outside Italy.
Carbonara and Alfredo
Carbonara sauce is similar in many ways to Alfredo sauce. Both originated in Italy but became popular in the United States.
Carbonara has a more recent history, however. While Fettucine Alfredo is said to have been created way back in 1914, the first record of carbonara sauce appeared only after the Second World War. And one of the first cookbooks to include a pasta Carbonara recipe was Elizabeth David's Italian Food, published in 1954.
Both Alfredo and Carbonara also got modified and adulterated in the US, most notably with the use of cream. I don't like cream. So I was happy to make "re-modify" this pasta carbonara recipe - which I found in an American pasta cookbook - by leaving out the cream and using the original Italian ingredient - butter!
This is where the other similarity comes in. Alfredo and Carbonara sauces were both originally prepared by mixing cheese with butter - and, in the case of Carbonara, sometimes with olive oil instead.
Authentic ingredients and substitutes
Another interesting feature of Carbonara sauce is the use of raw eggs (or egg yolks), which get cooked when they are mixed with the hot pasta and then just warming the dish slightly. This is the same technique I used in the recipe for
pasta with creamed spinach sauce.
It's a wonderful way to lend richness to sauces and soups.
An authentic pasta carbonara recipe on would have been prepared with butter or olive oil, together with eggs, pecorino romano (a salty Italian cheese made from sheep milk), guanciale (an unsmoked Italian bacon prepared with pig's cheeks) and black pepper.
Some of these ingredients may be difficult to obtain, or costly. But you get close enough to the real thing if you use olive oil or butter with eggs, a hard, salty Italian cheese, bacon or other cured pork and black pepper. Once you find a pasta carbonara recipe that uses cream or milk, it is probably American or some other nationality. I have seen Filipino versions of carbonara sauce made with evaporated or condensed milk and even tomato ketchup. Yucks!

Italian-style pasta carbonara recipe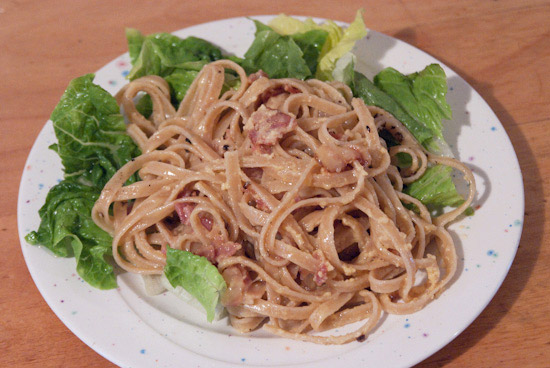 Ingredients (serves 4 to 6):
2 tbsp butter
250 grams pancetta (Italian bacon) or streaky bacon (pork belly or side pork)


150 grams butter
150 grams Pecorino Romano, grated
4 egg yolks
black pepper - generous amounts


500 grams pasta, cooked according to instructions.
Pictured above is wholemeal linguine
Method:
Heat 2 tbsp butter in a heavy pan. Fry pancetta / bacon over medium heat until crisp, about 10 minutes. Take care not to let the bacon burn.
Remove from pan, leaving the oil behind. Set aside and cover to keep warm.
While pasta is cooking, mix together butter, cheese and egg yolks until they form a creamy sauce. Add generous amounts of black pepper. Important: have the sauce ready before the pasta is cooked.
Once pasta is cooked, drain and quickly mix in the sauce and bacon. Heat up gently until the sauce just thickens. Do not use a big fire, otherwise the eggs will curdle.
Notes:
Pasta carbonara is typically served with spaghetti, fettucine and other medium thickness pasta,
For a different, but still authentic, Italian flavour, use olive oil instead of butter.
If unable to get Percorina Romano, use Parmiggiano Reggiano (Parmesan) or other hard, salty Italian cheese.
This being a rich sauce, it goes well with fresh green vegetables, such as romaine lettuce.
One popular variation is Chicken carbonara. You can do this simply by adding pieces of pan-fried chicken meat (I suggest thigh meat rather than the usual chicken breast) to the sauce. Click here, however, for a 'fun' chicken pasta carbonara recipe.