cookbook. Not being Italian, I never thought that the Italians eat much hot chilli peppers.
True, I knew there was Pasta Arrabbiata which has a "fiery" tomato-based sauce with chilli, garlic and basil. I also knew about dried chilli peppers being used as a topping for pizza.
But all along I thought Arrabbiata was one of the rare exceptions of Italian hot pepper recipes. I also thought that sprinkling dried chilli on pizza was an American - or even Asian - habit.
So I was quite surprised to find, in an Italian pasta cookbook titled The Il Forniao Pasta Book, an ingredient called dried pepperoncino - or dried chilli peppers - listed as a MAJOR ingredient of authentic Italian pasta!
Of course, Italian hot pepper recipes are not as hot and spicy as the typical Indian, Southeast Asian, Korean or Chinese Sichuan recipes.
Still, the book has quite many pasta with hot pepper recipes that includes one ot two pepperoncino, broken up into small pieces.
More surprisingly, I found a recipe called Spaghetti Aglio, Olio e Pepperoncino, that is very similar to my own simplified Pasta Arrabbiata.
I had thought that my creation was unique among
pasta hot pepper recipes,
but according to the book, this recipe is commonly prepared throughout Italy. The main difference is that my version uses fresh red chillis whereas the Italian version uses dried pepperoncino.
Update: I just found yet another similar recipe in another Italian pasta cookbook, 100 Ways to be Pasta. I had borrowed both cookbooks from the library at the same time and both books (by different authors) tell the same story about the author preparing the dish at a friend's house in the middle of the night and calling it "Midnight Spaghetti".
Hmmmm.... now I wonder how authentic these stories are, as the two stories are almost identical. But I am quite confident that the recipes are authentic.
Here's my variation of "Midnight Spaghetti". Compared to the book version, mime uses more garlic, more dried chilli peppers and less salt. And since pepperoncino may not be easily found outside of Italy, I simply use regular dried hot chilli pepper flakes.
Hot pepper recipes - 'Midnight Spaghetti'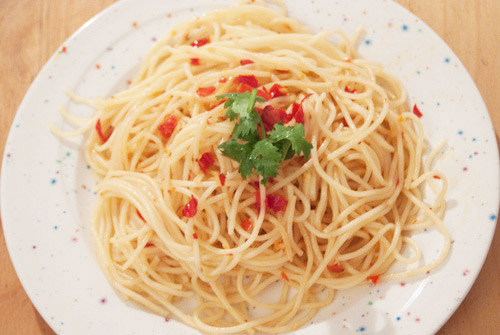 Ingredients (serves 4 to 6):
1/2 cup extra virgin olive oil
2 tbsp dried hot chilli pepper flakes
8 cloves garlic
1/4 tsp sea salt
1/4 cup chopped fresh Italian parsley or coriander


300 grams spaghetti or other pasta, cooked according to instructions. Save some of the cooking liquid.
Method:
Smash the garlic with the blade of a knife and cut finely.
Heat the olive oil in a heavy pan. Add the garlic, chilli and salt, and fry for about two minutes, until fragrant and the garlic begins to brown, about 3 minutes.
Toss in the cooked pasta together with the Italian parsley. Serve immediately.
If the sauce is too dry, add a bit of the pasta cooking liquid.
Notes:
Me being Asian, I am used to more chilli and garlic and I might even use more than the amounts stated above. If you are not used to the spicy flavour, reduce the amounts.


In a very simple recipe like this, the quality of ingredients, especially the oil, is crucial. So use a good quality extra virgin olive oil as the base. In my simplified Pasta Arrabbiata, I mixed a bit of toasted sesame oil with the olive oil for a more complex flavour. You might want to try the same here.


Personally, I enjoy a dry pasta. But if you find the sauce too dry, add a bit of the pasta cooking liquid. Do this slowly, maybe one tablespoonful at a time, because once the sauce is too wet, it is difficult to dry it back.


As hot pepper recipes like this are rather spartan, eat it with some vegetables and protein (meat / fish etc) side dishes.